Originaire de l'Ile de France, Cinz se passionne pour la culture Hip Hop au début des années 90. Appartenant à la seconde génération de graffeurs, il s'exercera principalement dans les terrains vagues, et souvent seul au coin des rues ou le long des voies ferrées. Sa rencontre en 1995 avec Jade, l'un des membres du groupe D77 (Défonce 7 jours sur 7), lui fait découvrir l'univers du graffiti.
En 2000 Cinz entre au sein du groupe D77, un collectif composé majoritairement d'artistes vandales, évoluant principalement sur paris et proche banlieue.
Parallèlement, fin des années 90, les expériences urbaines éphémères le pousse à découvrir et travailler la peinture classique et à fixer son art sur des toiles, essuyant les railleries de ses amis proches, il nous propose différentes vues de paysages urbains dans lesquels sont immergés divers graffitis et tags.. Après de nombreux essais, il expose ses premières œuvres lors d'une exposition organisée par l'école supérieure de vente de St Germain en Laye aux côtés d'autres artistes.
Il collabore avec Sezam qui l'invitera à créer une œuvre de 8M X 3M pour la marque « WESIDE » (prêt à porter), destinée à promouvoir son image à travers la presse. Cette collaboration perdurera d'ailleurs lors de plusieurs évènements artistiques et ce, jusqu'à aujourd'hui.
Cinz évolue désormais en électron libre au sein du graffiti et laisse sa créativité le guider. Il participe avec Dzer, Sezam et Finte au festival quartier d'été à Rennes à plusieurs reprises.
En 2005, il est invité à exposer au premier Salon d'art comptemporain « ART&CRAFT » à Dubaï (Emirats Arabes Unis). Lors de cet événement, Cinz rencontre un franc succès avec ses toiles mêlant avec grâce tags et calligraphies, au point d'être sollicité pour la décoration d'un centre commercial d'ABU DABI « MARINA MALL » (Emirats Arabes Unis).
La même année, Cinz nous ouvrira les portes de son univers au cours de deux  expositions : « La seconde Face » où il expose seul chez K1ZE Galerie Shop Parisienne  tout proche de l'Opéra de Paris., et « Sous le patio » se tenant dans le cadre exceptionnel de l'hôtel particulier Jean Herault de Gourville (16110 La Rochefoucauld).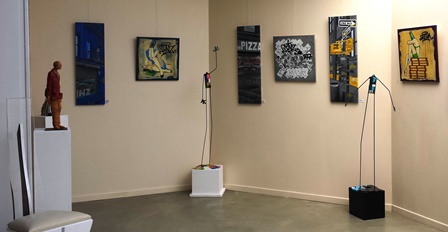 Après un voyage à New York, il revient plein d'énergie et de créativité. Sa relation à la ville le suit depuis le début de carrière, il devient un véritable peintre d'atelier avec la rigueur et les tourments que cela implique.
En juillet 2007, Cinz est invité à exposer et venir échanger sur son travail  lors du Forum « Réussir en Banlieue » à La Chambre de Commerce et d'Industrie de l'Essonne (Evry 91) et participe, également au «Tour de France du Mécénat 2008». 2009, les œuvres de Cinz sont exposés à Brest à la Galerie ZONZON où Cinz reçoit un accueil et une critique positive et chaleureuse.
Son travail frappe par la taille, assemblage des couleurs et la maîtrise technique dont il fait preuve. Ses œuvres s'appréhendent selon 2 niveaux : l'attention se porte sur la vue d'ensemble, à la composition souvent symétrique, puis c'est l'analyse de la multitude de détails qui occupe l'esprit.
La reconnaissance artistique l'amène à voyager à travers la France (Brest, St Tropez, Rennes, Paris…) et le Monde (Dubaï, New York…). Partout, les rencontres qu'il fait, même anonymes, le marque autant que la ville le touche.
Cinz participe depuis à différentes ventes aux enchères, Millon et Associés Paris, Piasa Paris, Cornette de Saint Cyr Paris, Antoines Aguttes Cannes et différents rendez-vous comme la célèbre exposition « ART ELYSEES» et le salon «Street Art St Sulpice».
En 2011 il est en résidence au château des Carneaux dans le cadre d'un mécénat. Durant 2 ans, il est soutenu par Mr Jean Hamon collectionneur émérite et sa femme qui le guident et lui délivrent de précieux conseils. Cinz s'attaque à de nouveau supports et se découvre une attirance pour la sculpture et le custom.
Après avoir suivie une formation des plus étonnante sur une machine de découpe plasma, Cinz se tourne de plus en plus vers le métal matière qu'il affectionne particulièrement, il réalise de surprennent dessin découpé en acier ou inox.
Toujours présent à la galerie Zonzon de Brest Cinz présente c'est nouvelles toiles ainsi que quelque création métal qui suscite un vif intérêt auprès du public. Il expose également à la galerie Hamon du Havre ou l'on peut découvrir un travail plus instinctif et spontané.
Il participe également aux expositions Pimp my Vinyl ou il présente de nouvelles œuvres sur disques vinyle.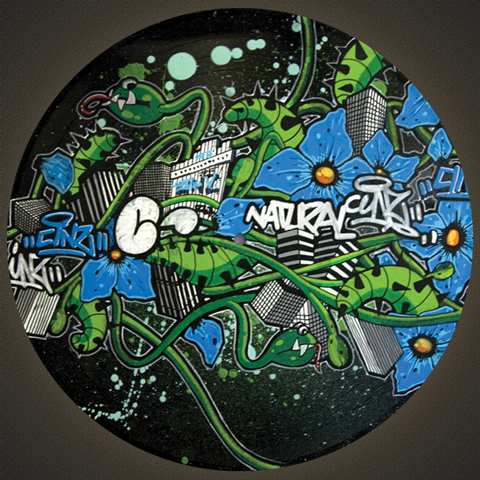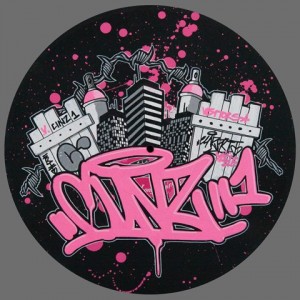 Toujours à la recherche de matières différentes à peintre trouve dans le vinyle une matière et une texture due au sillon des plus agréable.
Aujourd'hui Cinz, fort de son expérience customise meubles et divers objets de décoration, il crée également pour Création 8 des oeuvres en édition limitée destinée à l'aménagement intérieur.
Ne délaissant pas la peinture pour autant il réalise des oeuvres sur palissade .
Il réalise une nouvelle série de 5 farfalles (Luxurious Pastas) en résine peinte à la main qu'il expose dans les galeries NUNC, Lavomatic et Urban art galerie à paris.
Aujourd'hui cinz donne vie à ses city players .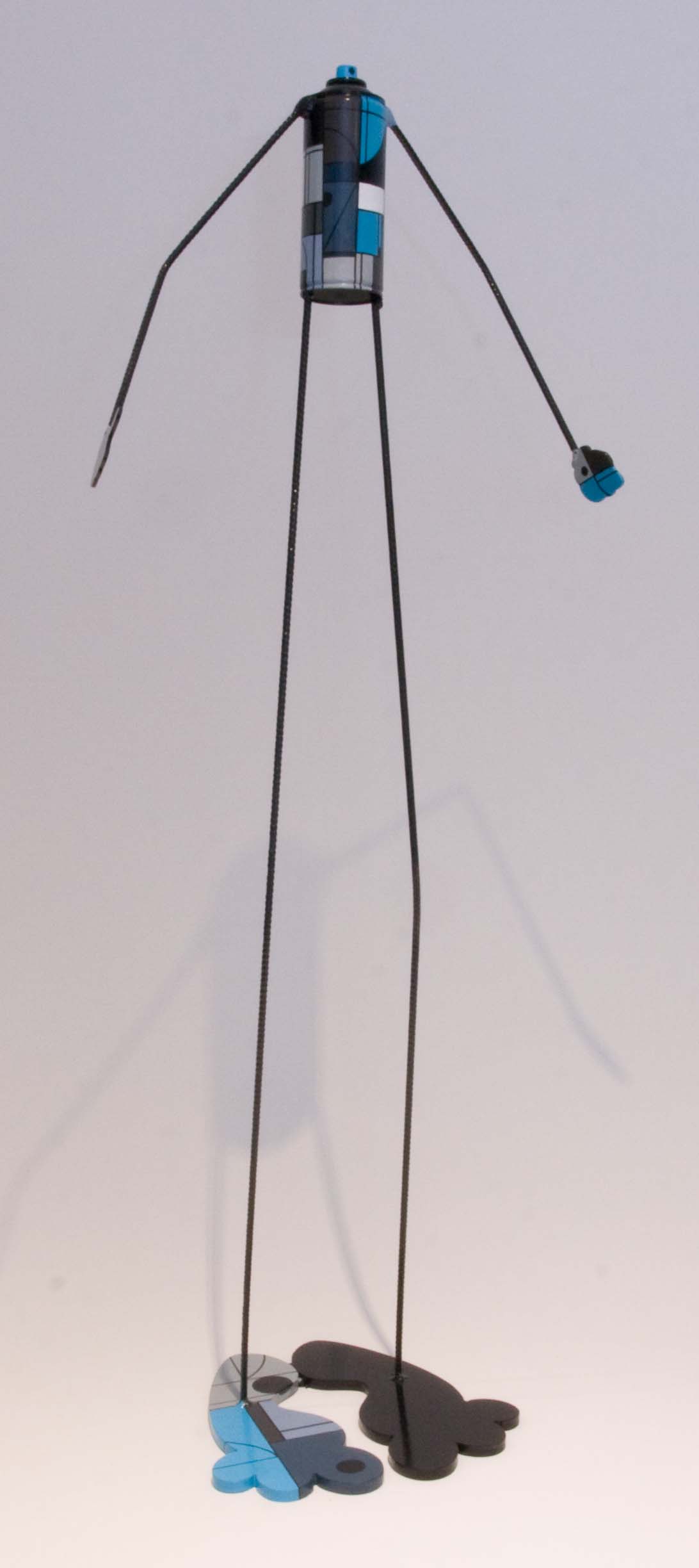 ENGLISH VERSION
Coming from Paris area, Cinz started his passion for hip-hop in the 90's. Belonging to the second generation of graffiti's artists, he has improved his talent outdoors around the streets and the train tracks. In 1995, his meeting with Jade from D77 (Défonce 7 jours sur 7) has introduced him to the graffiti's world.
In 2000, Cinz became a member of D77. The crew, composed by vandal-artists, is evolving in Paris and its suburbs.
In the meantime, at the end of the 90's, he specialized his art by painting frames despite the non sense claimed by his close friends. He has various views on urban sceneries where he melts graffitis and tags.  After several trials, he showed his first works during an exhibition from the Sales School of Saint-Germain-en-Laye.
He made some featurings especially with the artist Sezam who invited him to work on a huge piece of art (8m X 3m) to promote the fashion brand "WESIDE". This was the beginning of a great collaboration that is still alive nowadays.
Cinz has gained more confidence and more experience in the graffiti's world to make his own choices. He collaborated with Dzer, Sezam, Junky and Finte at the Summer Festival of Rennes.
In 2005, he is invited to participate to the first art showroom named "ART&CRAFT" in Dubaï (U.A.E.). During this event, he had a great success thanks to the paintings he made mixing graffiti and calligraphy to the point that he has been requested to work on the decoration of the MARINA MALL of Abu Dhabi (U.A.E.).
During the same year, Cinz had shown his talent at the event « La seconde Face » where he was the only artist to exhibit at 'K1ZE Galerie Shop Parisienne'  not too far from the 'Opéra de Paris'. The second exhibition was « Sous le patio » in the marvelous town house Jean Herault de Gourville (16110 La Rochefoucauld).
After a New York trip, he came back full of energy and creativity. His relationship with the city follows him since the beginning of his career. He became a real workshop painter with all the roughness and torment that it implies.
In July 2007, Cinz is invited to participate to 2 forums :  "Réussir en Banlieue" (How to succeed in the suburbs) at the Chamber of Commerce and Industry of ESSONNE (Evry 91) and "Tour de France du Mécennat 2008".
In 2009, Cinz's work is shown at 'Gallerie ZONZON' in Brest where he received a warm and positive criticism.
His work strikes by the size, assembly of the colors and the technical control of which he shows. You can read his work at 2 levels : the attention goes on the overall picture, with the often symmetrical composition, then it is the analysis of the multitude of details which occupies the spirit.
Present on the scene graffiti, he dissociates other graffiti artists by his artistic approach except standards; mainly self-educated, he quickly forsakes lettering suitable for the movement graffiti while declining of the structures and the architectural forms. Cinz is posed like observer.
The artistic recognition leads him to travel through France (Brest, St Tropez, Rennes, Paris…) and the World (Dubai, New York…). Everywhere, the meetings which it makes, even anonymities, marks it as much as the city touches him.
Cinz takes part since in various auctions, Million and Associated Paris, Piasa Paris, Cornet of Saint Cyr Paris, Antoines Aguttes Cannes and various rendez -you like the famous exposure "ART ELYSEES" and the living room "Street Art St Sulpice".
During the year 2011, he is in residence with the castle of the Flues within the framework of a patronage. During 1 year and half, he is shouldered by Mr. Jean Hamon and his wife who guide him and delivers invaluable councils to him. Cinz attacks again supports and discovers an attraction for the sculpture and the custom.
After following one of the more amazing training on a plasma cutting machine, Cinz is turning more and more towards the metal material he particularly likes, he produced drawings surprise cut steel or stainless steel.
Also present at the gallery Zonzon in Brest (France), Cinz is showing his new paintings and some new metal creation which are a great interest to the public. He also exhibited at the gallery Hamon in Le Havre (France) where you can find a more instinctive and spontaneous work.
He also participates in exhibitions like 'Pimp my Vynil' that shows new works on vinyl records.
Always looking at different artist materials, he found, into the vinyl material and texture, an amazing material to work with.
Today Cinz, with its experience, customizes furniture and various decorative items, it also creates for 'Creation 8' a limited edition work for interior design.
Not giving up on painting work, he carries out works on fence.
It makes a new series of 5 resin painting farfalle (Luxurious Pastas) that he exhibited at the galleries NUNC, Lavomatic and Urban Art Gallery in Paris.
Today Cinz gives life to his city players