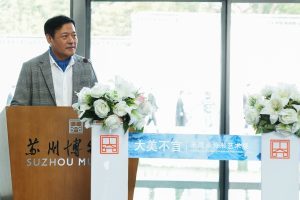 Expositions
In 1987, held "Embrace Ink Painting" solo exhibition in Seibu Gallery in Tokyo, Japan.
In 1988, participated in Asian Art Biennial in Fukuoka Asian Art Museum, Japan
In 1991, held solo exhibition in Düsseldorf Academy of Fine Arts, Germany.
In 1992, held solo exhibition in Neotu Gallery in Paris, France.
In 1994, held Abstract Works Exhibition in Stellwerk Gallery in Kassel, Germany.
In 1995, held Ink Painting Exhibition in Seoul, South Korea.
In 1996, held Ink Painting Abstract Exhibition in Bowenge in San Francisco, U.S.
In 1997-2002, devoted to research in new techniques and art schema for ink painting.
In 2004, won special award in Chinese Painting and Calligraphy Beijing Invitational Exhibition.
In 2005, won Innovation Award in the 5th Contemporary Chinese Ink Painting Grand Prix.
In 2006, participated in Contemporary Chinese Painting and Calligraphy Invitational Exhibition in Rongbaozhai, Beijing, China.
. In 2007, won special award in the 1st Taoist Painting and Calligraphy Exchange Exhibition.
In 2008, participated in Academic Exhibition for 21st century Ink Painting in China National Academy of Painting.
In 2008, took part in "Melt and Fusion— Abstract Contemporary Art Exhibition" in Black Bridge Gallery in Beijing, China.
In 2009, curated the 1st China Abstract Art Exhibition.
In 2009, academic paper "Meditation in Ink Painting" won International Art Golden Award in the 10th World Chinese Art Conference.
In 2009, participated in Florence Contemporary Art International Biennial Exhibition
In 2010, participated in the 7th China-Korea International Artwork Exhibition in China.
In 2010, organized the 1st Annual Conference and Exchange Exhibition on China Abstract Artists in China.
2010, initiated China Abstract Art Alliance.
2011, participated in Chinese Abstract Art Exhibition in Beijing, China.
2011, participated in "History, New Song zhuan" Exhibition
2011, participated in 2011 Louvre Chinese Artwork Invitational Exhibition, France.
April 2012, participated in China Contemporary Ink Painting Biennial Exhibition in Shenzhen, China.
November 2013, held "Post Philosophy New Naturalism" in Beverly Contemporary Art Gallery in Los Angeles, U.S.
September 2013, held "Zhu Yuze, neo-naturalism" in China-Germany Contemporary Art Center in Cologne, Germany.
December 2014, curated and moderated the 2nd Harbin International Contemporary Artwork Exhibition, China.
2015, participated in1st Dezhou Joint Exhibition for Chinese and Foreign Artists, China.
2016 , The ART exchange exhibition of East and West (China,France, Belgium, Holland)
2017, Chinese Songzhuang of Meideya Art Center,The exhibition of 'FRACTAL ART'
Biographie
Zhu Yuze (nom taoïste Xian Yunzi) est né à Pékin en 1963. Il a étudié au département central de l' Academie des beaux Arts de Chine en 1982. Il est diplômé de l'Université du département d'art de Tokyo à 1986. Il a poursuivi des études à la faculté de philosophie de Munich et Académie des beaux-arts de Düsseldorf de 1994 de 1997. Il a publié plus de 30 essais dans les journaux nationaux et étrangers. Il est le premier artiste à travailler sur la combinaison de la théorie des fractales et art contemporain. Il met également la théorie en pratique avec ses propres œuvres. Ses travaux académiques ont été exposés en Europe par  des galeries de renommés, tant en Chine qu'à l'étranger